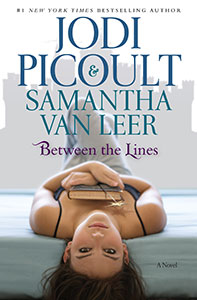 Delilah is a high-school loner who finds comfort in a picture book called "Between The Lines" that she found in her school's library. Even though she knows she's too old to be reading fairy tales, she loves to read about Oliver, a handsome prince who sets out to save a princess. He fights dragons, tricks trolls, escapes mermaids, etc. Delilah likes to believe in happy endings, ever since her dad left her and her mom. That's why she can relate to Oliver, whose father was killed protecting his kingdom from a dragon. One day, Oliver from her book talks to her. It turns out that he lives a life too when the book is closed. When someone is reading the book he is an actor saying the liens that were written for him. Oliver has always wondered what was outside his book and desperately wants to get out.
For those of you who may not know, Jodi Picoult wrote this novel with her teenage daughter. I read in Entertainment Weekly that she had wanted to write a novel targeted towards a younger audience because he readers may have wanted to "share her stories with their children or younger siblings". That made me laugh a lot because sorry Jodi, I'm not in a huge rush to tell my younger brother about gay parenting rights, emancipation, cancer, abduction, etc. When I heard that Picoult was writing a young adult book I was very excited and knew I had to get my hands on it. And by the way, the picture of the two was taken by my favorite photographer Adam Bouska, who I actually got to meet the other day. He is a wonderful man and his pictures are extremely beautiful. Here is a video of him and them during the photoshoot: http://www.jodipicoult.com/between-the-lines.html In case you couldn't tell, I am a huge fan of Adam.
Between The Lines has a really cool concept and a nicely narrated story. The plot is decently paced and the characters are likable. The chapters are alternated between a narration of Oliver, Delilah, and the story itself. I like books with chapters like this, which is why I enjoy Jodi's writing. It's a nice romance without being too much of a romance, and it also touches up upon family matters and friendship. I enjoyed this novel and I would recommend it, whether you've read any of Jodi's other novels or not. 5 out of 5 stars.